Campsite Montpellier
You wish to spend your holidays in campsite Montpellier or incampsite in Hérault ? But you would not like to choose between a place in the countryside and isolated or on the Mediterranean coast and overcrowded in July and August like the seaside resort of Palavas les Flots or the Grau du Roi? The Campsite Bon Port and Petite Camargue is located in the vicinity of Montpellier in the South of France, for a holiday that is both relaxing and rich in discovery.
Montpellier, the capital of Languedoc Roussillon and a city renowned for its medicine and violin makers, is a unique example in Europe of mastered urban planning with a thousand years of history, a concentration of entertainment and festivals of international renown, with outstanding gastronomy and the cult of great wines. It is also a major destination for learning French.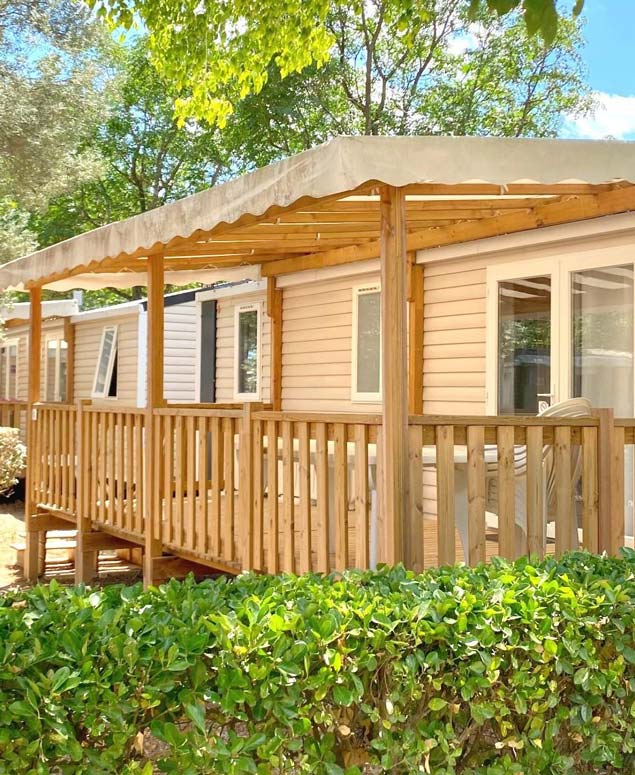 Mobile home rental near Montpellier
Whatever the composition of your family or group, you can rent a comfortable mobile home near Montpellier. 30 km from the city and about 10 km from the beach, the Bon Port**** campsite in Lunel has a wide range of modern mobile homes for up to 8 people. Ten models 2 to 4 bedrooms There are also separate, child-friendly apartments with covered and semi-covered terraces and apartments for people with reduced mobility. All are equipped with shower room and WC and a wi-fi connection is available in all accommodations. You are spoilt for choice when it comes to comfort, and don't forget your swimming costume. The camping near Montpellier is planted with trees and has a aquatic area with paddling pool in a beautiful palm tree setting, so don't forget your baby's swimming costume! If you're worried about getting cold in an unheated outdoor pool, don't worry, all pools are heated! There is no hot tub, but there are playgrounds for children and a grocery shop to buy bread and pastries, all near Montpellier and Grau du Roi. A bar-restaurant welcomes you during the season and the staff of our family campsite provide all kinds of entertainment and games for children. In July and August, sports activities are also offered during the day. And if you want to come with your motorhome or caravan, it is also possible to stay on our camping pitches! If you are looking for a campsite Montpellier, le Bon Port will change your mind!
Tourism and places of interest in Montpellier
At campsite Montpellier, it is easy to take a walk in the ;pedestrian streets of the Ecusson, the medieval quarter of the city centre. Place of the Comédie, people like to sit on the lively terraces to admire the imposing Fontaine of the Trois Grâces inspired by ancient Greece and the opera.
The ancient walled city is full of prestigious and well-preserved buildings. Go back in time starting with the University dating from the 13th century and the twelve chapels of the Saint-Pierre cathedral erected in 1364. The scents and colours of the orangery and the arboretum of the Jardin des Plantes remind us that nearly 2000 species have been cultivated here since the 16th century. The famous Arc of Triomphe of Montpellier displays its bas-reliefs carved in 1692 while thedouble aqueduct of Saint-Clément has been supplying the city's fountains since the 18th century!
Painting enthusiasts will enjoy the Musée Fabre ;of the 19th century which exhibits the works of masters such as Raphael and Delacroix.
During a stay campsite Montpellier There is also everything you could wish for in terms of leisure and entertainment, including a magical journey from the seabed to the cosmos in the amazing Planet Océan where giant aquariums and a planetarium are located.
N.B.: When booking at Montpellier campsite, please check the capacity of the accommodation you have chosen: any number of people exceeding the maximum capacity will be refused. Deposits are accepted. Swimming trunks or shorts are not allowed.
Discover the cities around Montpellier