Campsite the Grande Motte
You are looking for a campsite in Grande Motte or a campsite in Hérault for a comfortable holiday in the South of France? Notre campsite in Petite Camargue is located close to The Grande Motte. Welcoming, comfortable and well-equipped, its location allows you to enjoy all the places of interest in the Hérault and neighbouring departments.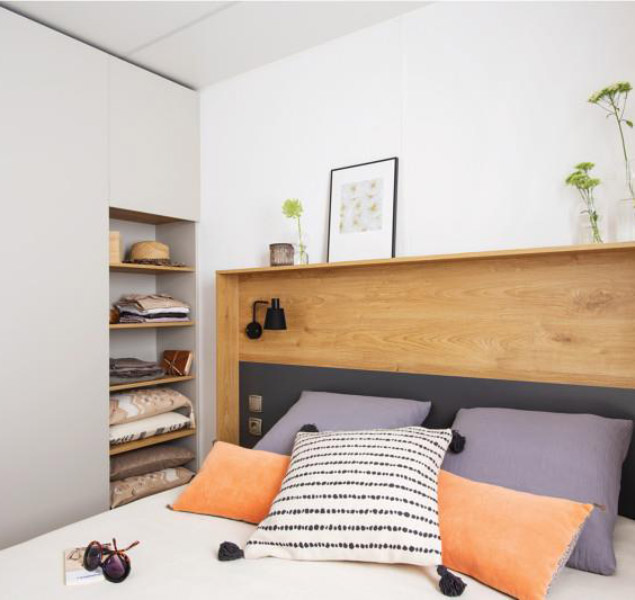 Mobil home rental near La Grande Motte
The beaches of La Grande Motte and the surrounding seaside resorts give you a furious desire for a holiday and you are looking for a campsite in Grande Motte ? Choose a mobile home rental near La Grande Motte for your stay! The Bon Port campsite ****, located only 16 km away, offers you mobile homes for rent near the Grande Motte.
Our campsite welcomes you in its wooded areas with a wide range of mobile homes. We have a dozen different models available to meet all types of needs. Large families, groups of friends, babies or young children, teenagers… There is accommodation here in mobile homes adapted to your needs and your budget. Our accommodation has 2 to 4 separate bedrooms and sleeps 4 to 8 people. They are not all arranged or decorated in the same way but all are functional and recent, with a terrace and access to the campsite wifi network. Do not hesitate to consult the pages of our site presenting each model in detail and to consult also our camping pitches for tent and camper van!
Tourism and places of interest in La Grande Motte
You don't spend your holidays in campsite the Grande Motte Bon Port**** without taking the time to visit the town.
La Grande Motte is renowned for its lively Point Zero and Sunset beaches, but even more so for its architecture and its very special pyramids. The resort, which has been awarded the "20th Century Heritage" label, invites you to investigate its many faces by downloading the Mystery of the Pyramids application, an original way of discovering the city of sands which should appeal to the youngest visitors.
Also, who says campsite Grande Motte says beach, Mediterranean seaside, nautical activities and holidays with your feet in the water in the Languedoc Roussillon region! On the Grand-Mottois coastline, it is easy to try catamaran, jet-ski, paddle, water-skiing, diving and wakeboarding or flyboarding. It is also possible to try conger eel fishing in the open sea and to discover the landscapes of the Camargue on both the sea and the land during a coastal cruise lasting a few hours or a day. During the summer, you can also enjoy night cruises.
A short distance from the centre, you can reach the Etang du Ponant, where you can fish in peace and quiet and observe sea turtles.
For land sports enthusiasts, golf and tennis are also played in La Grande Motte. Finally, the large casino also houses restaurants and an entertainment hall.