Campsite Pond of Thau
Looking for a campsite near the Etang de Thau for your family holiday in the Hérault department? Enjoy your stay campsite in the Hérault at Bon Port to get to the pond of Thau.
Water sports, swimming or relaxing under the Mediterranean sun, choose from the many activities available in this exceptional natural setting in the Hérault department near your campsite in petite Camargue !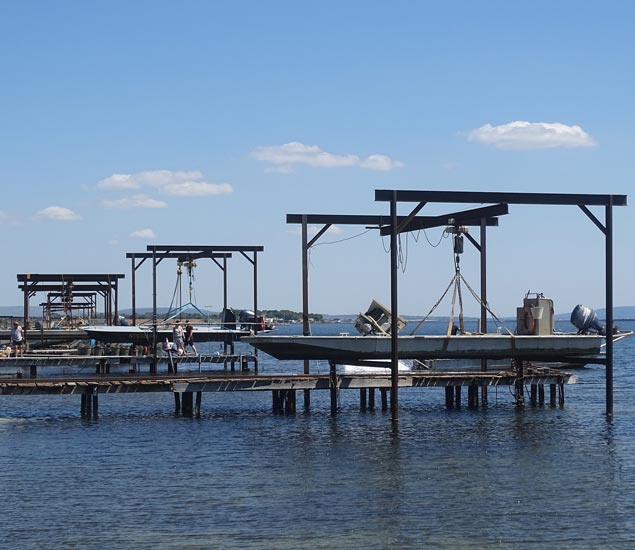 If you go further afield you can spend a day in Bouzigues, Mèze, Sète or Agde during your holiday camping in the Thau basin.
Take advantage of your break in Bouzigues to taste the speciality for which it is famous: the Bouzigues oyster accompanied by local wines such as the famous Picpoul.
Nearby Mèze, with its direct access to the Thau Lagoon, is also a popular stopover for yachtsmen looking for peace and quiet, tradition and art de vivre.
There is also Sète, well known to Georges Brassens, which has many places and monuments to discover on holiday campsite in the Etang de Thau. Climb to the top of Mont Saint Clair to enjoy a breathtaking view of the Pyrenees, stroll along the various canals that cross the town, discover the famous fishing port and soak up the sun on 12 km of beaches along the Mediterranean Sea.
Finally, at the forefront of the Thau lagoon, Agde is a town rich in history to be discovered along the shopping streets and shady walks!
Enjoy adventurous excursions in the Languedoc Roussillon region before returning to your comfortable mobile home in Lunel or your camping pitch in Le Bon Port!
Our family campsite has a children's playground and a large swimming pool with slides, ideal for a family holiday with your feet in the water in the South of France.
Discover the towns around the Étang de Thau