Campsite Mauguio
If you are looking for a campsite in Hérault for your next holiday, stop here for a moment. Campsite near Maugio, Camping Bon Port**** has the advantage of welcoming you in a wooded setting, close to the beaches and at the crossroads of the Gard, Hérault and Bouches du Rhone departments to facilitate your visit to the Languedoc Roussillon region.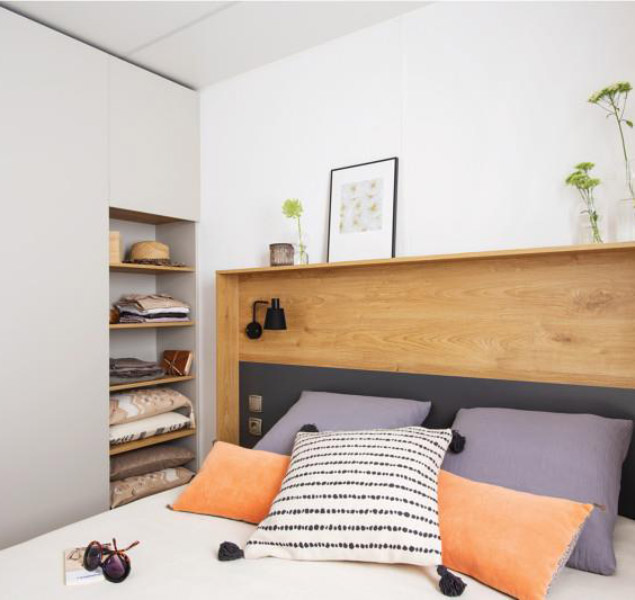 Mobile home rental near Mauguio
If you like camping, beaches, manades and the Camargue, this is the place to be rent a mobile home just 13 kilometres from Mauguio. Camping Bon Port 4**** near Montpellier offers a range of ten mobile homes of different styles and designs from which you are sure to find one that suits you.
These accommodations are recent and well-maintained, with a different and careful decoration, but all have the essential equipment to spend a good family holiday. Whether they have 2 or 4 bedrooms, whether they can accommodate 4 or 8 people, they all have a covered or semi-covered terrace and benefit from the campsite's wifi access. The range includes models especially designed for young children or people with reduced mobility.
Are you looking for a camping in Mauguio or in the surrounding area? At Bon Port****, your mobile home holiday will include the services and activities of the campsite and visits to the most beautiful places in the region. We also have camping pitches for motorhomes, tents and caravans on our family campsite.
Tourism and places of interest in Mauguio
By staying in camping Mauguio, you will understand why the seaside resort is a summary of the colours and flavours of the Petite Camargue. Choose a market day to spice up your trip.
Occitane in 100%, Mauguio is full of simple places with a historical character, from the town hall to the smallest wash house. The Jardin de la Motte and its belvedere are listed and labelled as a remarkable garden.
On the outskirts of the town, the Cabanier footpath is a privileged observation post for herons, flamingos and egrets and leads to the Etang de l'Or, classified Natura 2000.
The youngest will love spending a day at the Petits Fermiers. They will discover a world of goats, rabbits and ponies while learning about aromatic plants, not to mention the boat rides and zip line tours. Don't forget to take a relaxing day on the sandy beach of Carnon during your stay in the South of France, the neighbouring town on the Mediterranean Sea.
Finally, the highlight of a stay in Mauguio, is the visit of the manades. There is no Camargue without these bull farms, the wide open spaces, the conviviality and the traditions that go with it. The manadiers will guide you on their typical horses, you will experience some bullfights up close and often share a pleasant lunch in the meadows.
Discover the towns around Mauguio